Where to find the model number on a GE GAS Stove? Your model number will ALWAYS begin and end with a letter, not a number. Your tag will look similar to one of these below…


POSSIBLE LOCATION FOR GE OVEN MODEL NUMBER LOOKUP(S) :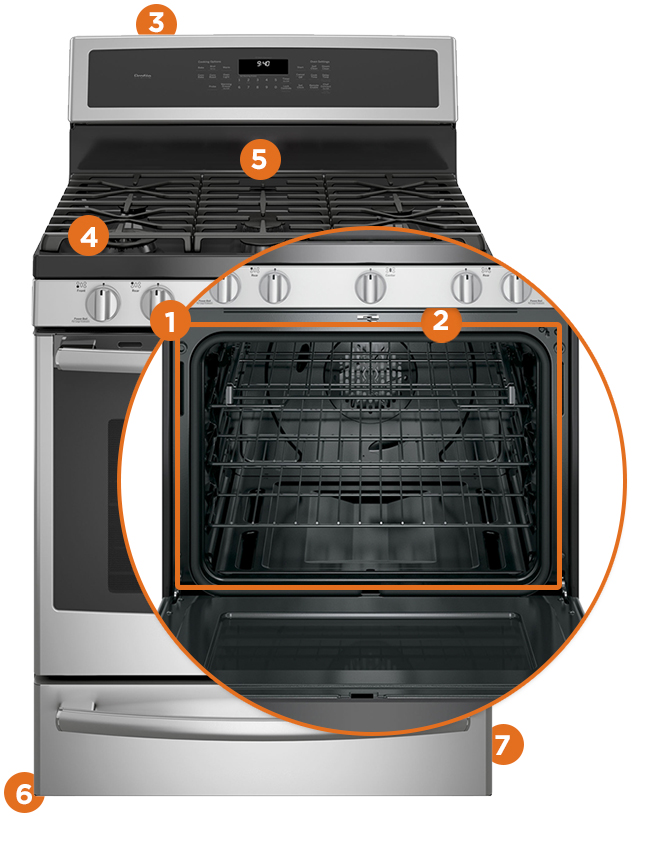 Check behind the door of the front frame.
Check this place for gas only. Behind the rear control panel of your stove. Reach behind the middle of the rear control panel and look for a metal flag. After that, rotate the metal flag up to see the model label. You will find the model number there.
Check this place for electric coil only. Under the left front surface unit of your stove.
Look at the center or on the right side of your stove, under the cook-top. Mostly here model number located.
Check on the left leg behind the drawer or kick panel at the bottom of your stove.
Check out the front frame, inside the drawer to find the model number on a Ge stove.
I hope this will help you to locate the serial number on a GE Stove.
The model number is on the inside right of the frame or on the back corner of the frame of your stove. In addition, Lift-top – Lift the top to find the model plate on the right side of the frame this is where you mostly locate the serial number or back corner of the frame. However, check all the locations mentioned above.
---
Lastly, Here are some GE gas stove parts with details. You might need to replace parts at some point in using it. Therefore, you should check this page and bookmark it. In addition, You can also drop your comments and suggestions to us what you think of it.
Read: Ge gas stove oven parts
Looking for the best air fryer? Check it here.